Working remotely in the tech industry can feel isolating and cut off from people, community, and life in general. That, in turn, can lead to feelings of depression and anxiety.
But the very thing we work at all day – technology – can help us fight some of the mental health symptoms that we may be dealing with at any time. Using Alexa skills, routines, alarms, and reminders can help us with focus, life balance, physical health, and mental health. Even in times of crisis like an anxiety attack, with just a few spoken words, you can execute features in the Alexa device and app to help you through.
Let's take a look at some ways that the Amazon Echo (Alexa) can assist us.
Alarms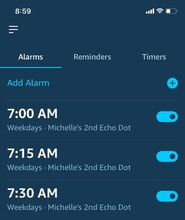 I am the first to admit it. I am not a morning person. So I need more than one alarm, from more than one source, as I have been known to unplug devices in my sleep. So, I set wake-up alarms on both Alexa and my phone. Using alarms is a good way to make sure you start your day on time and not in a time deficit – which can cause stress and anxiety, too!
Calendar Reminders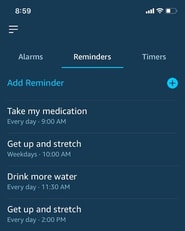 If you, like many of us, get deep into a project and lose track of time, then set calendar reminders on your Alexa device to alert you of an upcoming obligation. Missing appointments or habitually running late can cause stress and anxiety. Instead of dealing with that kind of stress, you can say things like:
"Alexa, remind me to leave for the dentist at 10:00am."
"Alexa, remind me to log into my Google meeting at 1:00pm."
"Alexa, remind me to call mom at 11:00am."
Alexa will then chime and give you a voice prompt at the time you mentioned to do the thing you need to do. (Just make sure you have the volume up!)
If you need a daily reminder to take medications, you can use Alexa for that, too!
"Alexa, remind me to take my meds every day at 9:00am."
Maybe you could use a reminder on workdays to get up and stretch, or refill your water bottle.
"Alexa, remind me on weekdays to get up and stretch at 10:00am."
"Alexa, remind me on weekdays to drink water at 1:00pm."
Coming Home to an Empty House (or Going to an Empty Office)
You can create routines in the Alexa app that respond to voice commands. If you have smart bulbs and smart plugs you can already say things like "Alexa, turn on the office lights." Did you know that you can also group devices together and create a routine? It used to feel dull to walk into my home at the end of the day and just say "Alexa, turn on apartment lights." So now, instead, I have a routine where I walk into the apartment and announce "Alexa, I'm home!" and the apartment lights assigned to that routine turn on. It's a small difference, but announcing "I'm home!" versus "turn on lights" has a very different feel to it and makes me feel warm and welcomed back to my own home.
Similarly, when going to bed I say "Alexa, goodnight!" and in the morning, "Alexa, good morning!" and the appropriate lights turn on. It may seem small, but small changes can affect your mood in big ways.
Routines for Anxiety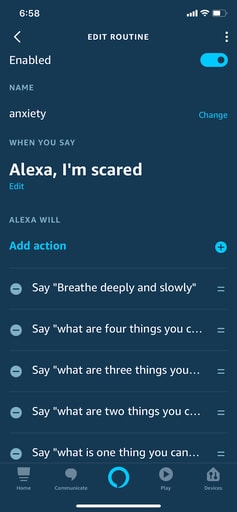 If you deal with anxiety, it can feel crippling. I have a routine set up where when I say "Alexa, I'm scared" the Echo will reply with the following:
"Breathe deeply and slowly."
"What are four things you can see?"
"What are three things you can touch?"
"What are two things you can hear?"
"What is one thing you can smell?"
"Look down at your hands and focus on the lines in your palms."
Plays "Claire de Lune" (a song that makes me happy) for 30 minutes or until I tell it to stop.
I can't promise that this routine will always bring me out of panic and anxiety, but it is an auditory reminder to do the things that usually help me to calm myself down to where I can feel rational again and not hyperventilate. I call that a success.
Alexa Skills for Mental and Physical Health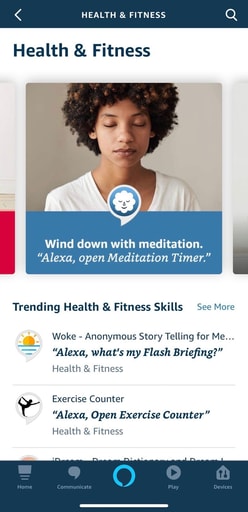 There are over 70,000 Alexa skills already created. Some are fun and frivolous like games and celebrity gossip. Others are industry-focused on things like stocks, finance, politics, and education. There are skills for travel, skills for weather, and skills for news and podcasts.
There are also a lot of skills centered on better mental and physical health. With so many skills available, there are many that will accomplish the same goal, so search them out and find the one that resonates best with you. You can look for Alexa skills to help you with the following:
Meditation
Support Circle
Working Out
Journaling
Inspirational Quotes
Goal Setting
Yoga
Acts of Kindness
Health Tips
Jokes – because humor is so good for the soul!
Feeling Alone or Lonely?
Try these skills:
Have Alexa Tell You a Story
Have Alexa Play a Podcast
Listen to the News through an Alexa Skill
Ask Alexa Factual Questions for Interaction
Use Alexa to call a friend or family member (must be connected to your phone to be enabled)
Ask Alexa to Tell You a Joke
More Skills Coming
We've only begun to explore the things we can do with devices like Alexa, Google Home, Siri, and others; what we can accomplish; and how we can use them for physical and mental health. More and more skills are being released every day. Skills for doctors, emergency medical professionals, and even the ability to speak with your doctor or mental health provider over Alexa are being developed now.
No One-Fit Panacea
Of course there's no one-fit cure-all for anyone or everyone. Changing small habits can be really helpful to help combat the symptoms of depression and anxiety, but Alexa reminders, routines, and skills aren't a replacement for other therapies including doctor-prescribed medications and therapy. But they can help supplement those, for sure.
As always, if you experience feelings that are outside of what you can handle, reach out for professional help. You're worth it.