As you may have noticed, it has been a little quiet here these past few weeks. The Big Orange Heart team was quite focused on the #NeverGiveUp campaign around one of the biggest WordPress events of the year, WordCamp US in St. Louis, promptly followed by the #DoSummitGood on Giving Tuesday.
But that doesn't mean we haven't been working on our most exciting project for 2020, the #HeadToWCEU project. We can't wait to tell you what we have been cooking up behind the scenes. Here we go!
The #HeadToWCEU project
In case you haven't heard about the #HeadToWCEU project yet: in May 2020 members of the Big Orange Heart team will be leaving the WordCamp Europe 2019 venue in Berlin, Germany and undertaking a challenging 3,000 km ride across Europe to the 2020 #WCEU venue in Porto, Portugal.
3000km on a bike? That sounds like a challenging but wonderful adventure, right? (Spoiler alert: it turned out 3000km is not even going to be the final challenge.)
And why are we doing this? To raise awareness for Big Orange Heart's principal and important mission: promoting and improving positive physical and mental health within the WordPress community.
The route
Defining the exact route that would bring us all safe and sane from Berlin to Porto was not an easy challenge: some of our busy bees inside the team have been deeply exploring the pros and cons of different online route planners to find out what will work best for us. After some elaborate research on European cycle paths, they spent hours and hours to plan every single mile of every single stage carefully.
We are more than proud to present the route we are planning to take from Berlin to Porto next year.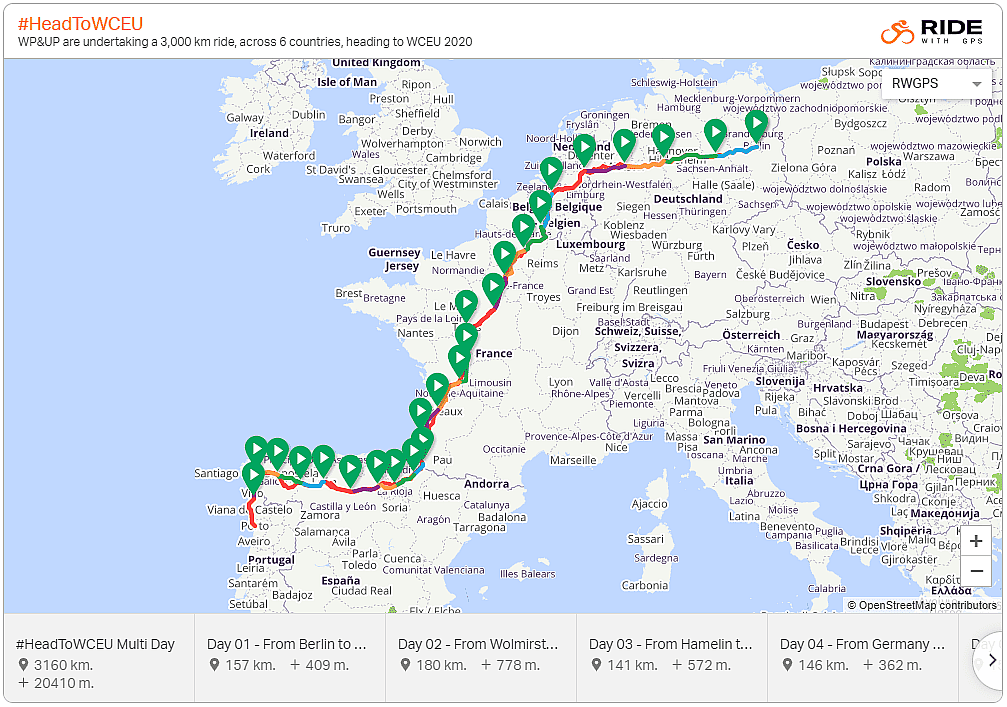 Please note that this route might not be 100% "final", but from now on, changes will only be minor.
And if 3000km wasn't enough of a challenge, we ended up with 3167km! Read the next paragraph to find out why.
Highlights
We wanted our journey to become more than just cycling from A to B. Of course, we wanted to make sure, we found the safest and most convenient route for our team and all the amazing riders that are planning to join us.
We also wanted the tour to be a unique, mindful and unforgettable experience. Cycling along coasts and picturesque villages sounds much nicer than on paved roads and along highways, right?
But we didn't stop there: we also wanted to include many different WordPress communities along our ride. That's why our route will pass through the following cities, each with a very active WordPress community:
Berlin (GER)
Münster (GER) – also close to the WPCGN and WCDUS communities
Nijmegen (NL)
Eindhoven (NL)
Antwerpen (BE)
Brussels (BE)
Paris (FR)
Bordeaux (FR)
Irun (Pamplona) (ESP)
And last but not least we couldn't resist the opportunity to include probably the most famous pilgrim route in the world, the Camino de Santiago.
During our research, we found out that between 10% and 15% of the pilgrims are undertaking this adventure by bike. In fact, we are including the full so-called Camino Francès from Saint-Jean-Pied-De-Port (France) over the Pyrenees and Pamplona to Santiago de Compostela (Spain). For safety and logistical reasons, we recommend anybody interested in cycling with us along the Camino to join us in Pamplona.
A dedicated blog post about the Camino part of the #HeadToWCEU project will follow as there is a lot to say about this amazing, spiritual adventure.
Where can you join us?
Several community members have already registered their interest, and we couldn't be happier about it.
The following table will give you detailed information about the route and where to join us.
We defined 6 stages during our journey where we would love to welcome riders from the WordPress community within our group. Please note that for safety and logistical reasons we accept only registrations for the full duration of certain stages (stage 4 & 5).
Actual registration will open in the following weeks and we highly encourage you to have a close look at the different stages to find out
Skill level and equipment
In the preceding paragraph, we gave you a brief overview of the profile of each stage. Also, you can explore the detailed profile of every daily tour on the Komoot website.
The distances we are covering every day are very long and partly rather challenging.
We encourage you to build up a certain level of fitness through endurance and weight training.
No member of the team is a professional athlete. Every team member will continue their regular day-to-day activities; running their businesses, undertaking work responsibilities, and ensuring their personal lives are balanced. We want to demonstrate small changes will lead to an overall improvement of our physical health and mental well-being. And we are going to share how we are trying to achieve our goals within the next weeks and months.
It is just as important to bring the right equipment to be able to cycle several hours a day. For health reasons, the bike, as well as any accessories, should be adapted to your body and your individual needs.
We need you!
We cannot do this alone. We want this to become a community project.
Being realistic, we expect our core team to experience some highs and lows along the way. We would love to benefit from the positive and empowering spirit of the WordPress community so as to keep our motivation as high as possible throughout the full journey.
Your support can be the key to our common success story:
Cycle with us along our way to Porto or join the #HeadToWCEU challenge online (more information to come soon)
Meet us along the route or in the evenings
Bring in the Tour de France feeling and cheer for us on-site while we are riding our bikes
Motivate us online via social media: #HeadToWCEU @wpandup
Help raise the funds to finance this project by donating or sharing our message online.
What's next?
We are working on giving you more detailed information on the following topics in the weeks to come:
Accommodation along the route for multiple-day participation
Funds/sponsorship for multiple-day participation of community members
Actual registration
Detailed Camino information
Joining the #HeadToWCEU challenge online
Training progress of the main riders
Training plan information
Find out more