Many of us do this, we never give up never giving up, over and over, as we move through whatever life throws at us. It's not easy and can take a certain bravery, to keep going, to try again or pick ourselves up from whatever floors us. The following shares my tale from the first "bounce" that set my path towards this wonderful WordPress community. I've always thought of it as bouncing, learning to bounce well and often move forward but sometimes sideways.
Bouncing off the glass ceiling
Hitting a very hard glass ceiling in a marketing department back in the 90s, I took a chance with my innate ability to get on with computers at work, able to figure out how to put together a simple database, and generally help people with IT stuff; I applied for, and somehow was offered, a contract on an IT helpdesk in London. My career was floundering and while I had a valiant try to start a business, my ideas were a few years ahead of their time and I was just not confident enough to be an entrepreneur. I did not give up and instead took a massive, and hugely unexpected, step forward in my working and personal life, moving from Bristol, commuting weekly in my dear old MGB Roadster for a few months until I moved myself and my cats to a flat in Notting Hill.
And I did well, had found a calling of sorts, progressing through a few helpdesk contracts – I did have a knack for helping people and not being afraid to ask my colleagues about stuff I could not find out or already know – and onto desktop support and then specialising in my beloved-at-the-time Lotus Notes. This stopped very suddenly with a health situation that meant I could no longer manage the daily train journey into London from Kent where I'd settled with my new partner. Even paying for private healthcare did not help resolve this, so I needed to…
#NeverGiveUP again
This was in 1999 and remote working was pretty much unheard of at the time, sadly – today I'd have no trouble finding a new role working from home (well, apart from being 20 years older!!). So, I bought a laptop (a cute little Sony Vaio – still have it tucked away as it is adorable) and Dreamweaver & Fireworks software, a few books, and learned how to make websites, figuring this could be done from bed if necessary. I approached a favourite local charity and the venue of my recent wedding, plus the caterers – and started making websites.
I knew no-one locally but thankfully the internet was taking off and so found forums to join in with to keep me company, somewhat; community became reachable for me, albeit on a slow modem (do you remember those?). Part of the health "scare" was around a suggestion of fertility, and being mid-30s we did not hang about with starting a family, and we were lucky to be blessed with our two offspring in reasonably short order, not without some difficulties but that's for another day and platform, methinks. Joining the local NCT (National Childbirth Trust) brought me friendships and support, and of course I volunteered for the committee to give something back! While I was not able to be as active as I wanted I just about managed to keep up with my children, a few new friends, and also setting up a women in business group for some friendly and local networking.
Enter WordPress
Meanwhile I built a small web design agency, of sorts, until a series of mishaps and situations a few years later resulted in this failing. Another #NeverGiveUP point when had to let go of my office and staff member, and scale back to being self-employed, working at home and continued with websites though on a much smaller scale. Shortly after, WordPress crossed my path – this was back in 2007 or so – and I was not keen until version 2 and the encouragement of a friend who wanted to use it. So I did not give up with WordPress and soon came to love building websites this way, enabling clients to update things themselves. And with this I've never looked back, swiftly moving away from Dreamweaver to totally embracing the way of WordPress 😉
My health issue continued to gently degenerate and I returned for another round of investigations and MRI scans in 2012 to see if a solution could be found. But no, so as the time came to adjust to this, I bought my mobility scooter (Dolores – you'll have met her at WordCamps) and accepted my disability. This was really quite liberating, accepting what I could and could not do meant I could focus on the former more efficiently, somehow.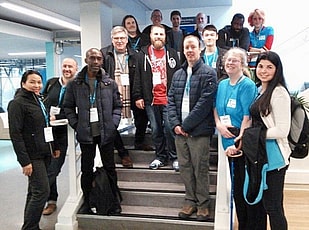 I have since thrown myself into (or at 😉 ) the WordPress community, from my first tentative volunteering at WordCamp London in 2016 then being encouraged to join the organising team the following year, and again in 2018, so that in 2019 I was co-lead with our wonderful Dan Maby. We work so well together that he asked me to join the Big Orange Heart team, and I love that it is partly my job to help look after you awesome people, somehow.
Community is one of the most important things for me but being disabled has made that difficult in the "real-life" world. With the amazing WP community, it matters not that I'm old enough to be mother to so many of you, that I cannot run about to do stuff, that I cannot join in with the socials very often. I can still use my skills for good, and everything I give is returned in how this makes me feel, how you make me feel – wanted, encouraged, loved even. It's not always easy to #NeverGiveUP but now, with Big Orange Heart here to help us all, I know that when I struggle, there is someone to take my hand and help me bounce.