Providing for the mental wellbeing of remote workers and funding the resources necessary to do it is an ongoing job. But have no fear, the creative team at Big Orange Heart has both covered with their new coloring book: Color My Heart Orange!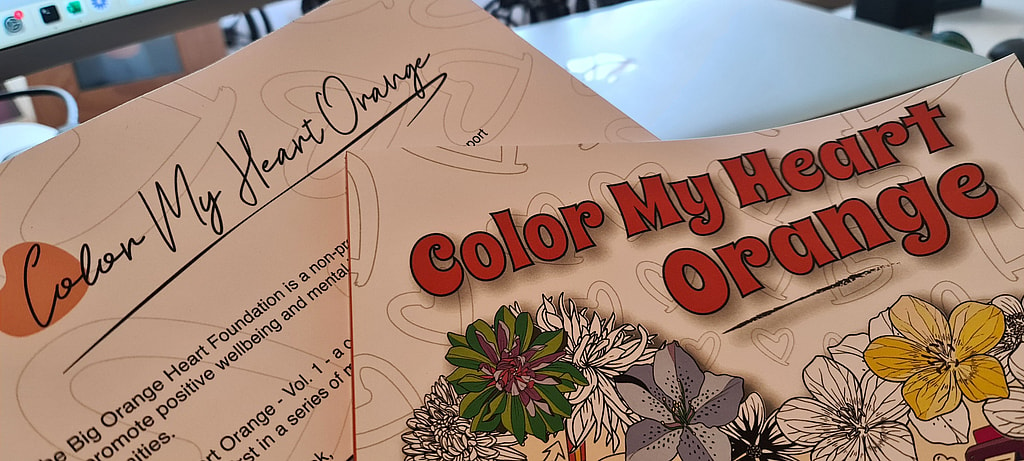 I recently sat down with Dan Maby, the Founder of Big Orange Heart, and Michelle Frechette, the President of Big Orange Heart, two of the driving forces behind the idea, to get a better understanding of why they picked a coloring book and what all went into making it.
So, my first question to them of course was…
Why Create a Coloring Book?
It's Therapeutic
For Michelle it was an obvious choice. "I've always found coloring, drawing – anything artistic – to be very therapeutic. So to do a small fundraiser while providing something potentially therapeutic, and at the least, entertaining, seemed like a great endeavor for Big Orange Heart."
Dan points out, "There are many benefits, in terms of our wellbeing, in taking time for ourselves. Whilst a coloring book offers the opportunity to be creative, it also provides a framework to develop your creativity. This framework, when compared to starting with a blank piece of paper, can help reduce the cognitive load on the person being creative. Thus creating a more relaxing and enjoyable experience."
It's Collaborative
Beyond the therapeutic value, Dan embraced the idea for it's collaborative possibilities. Big Orange Heart regularly delivers projects that get the community involved — their monthly meetups, Friday chats, and the WordFest Live events — and this was another way to do that.
We work within a community that has incredible talent and we wanted to draw on this (no pun intended!). There's something special that happens when passionate people come together, to work on a unified goal.

Dan Maby
In this case, the goal of the Color My Heart Orange coloring book was to deliver a physical product that allows individuals to take time for themselves and support their personal wellbeing, and these talented, passionate volunteers came together to do just that.
It's Multifunctional
Michelle went on to add, "In addition to my ideas to create the coloring pages, Dan had the brilliant idea to include content that was text-based, and somewhat journal-like. So mixed in with artwork are poems, quotations, and essays. And there's plenty of white space to doodle, too!"
It's Fun
And finally Dan wants us to remember that "at its most simplistic level – because it's something fun. Delivering something that can bring joy into the lives of others… who doesn't want to be part of that?"
Having fun and improving mental wellbeing? What's not to love about that!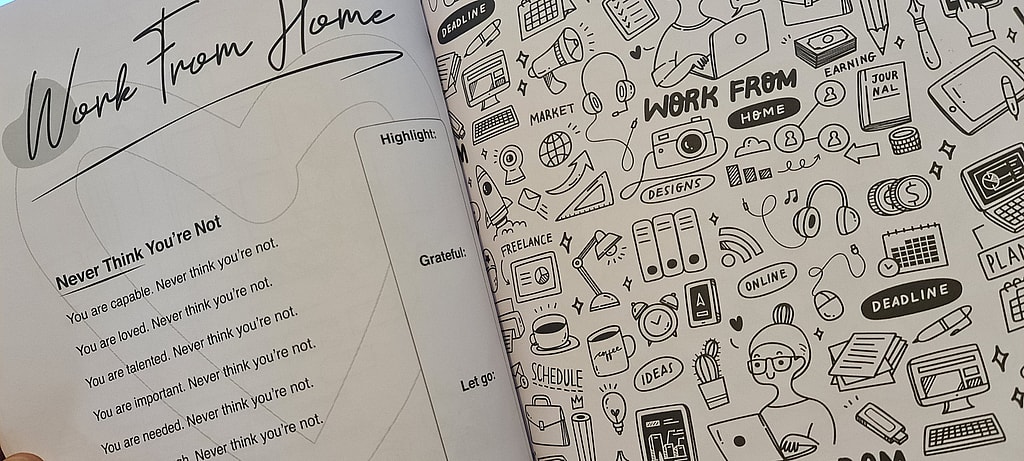 Why a Coloring Book Instead of Just Asking for Donations?
It's easy to agree that the coloring book offers many benefits, but it definitely takes time to pull together. And time is something this very busy team of volunteers has a short supply of. So I was really curious to understand better why they chose to invest that time this way.
Dan, of course, was ready to fill me in.
We're a non-profit that functions very much within the digital space and we appreciate this, it offers a lot of benefits to our community. But there are times when a physical product can be special.

Dan Maby
"It would have been far easier to deliver a printable PDF version of Color My Heart Orange but – in my opinion – it would have lacked a certain appeal. Working with multiple community members to curate, design, and deliver this has been a joy, but the day I received the first physical copy through my door was extra special to me.

We also appreciate that globally, people are being impacted financially by the pandemic. Whilst we rely on the generosity of the public to support our efforts through donations, we also recognise that times are challenging.
Every purchase of Color My Heart Orange contributes to our efforts to deliver free mental health and wellbeing support to remote working communities.
By grabbing a copy of this book, you'll not only receive the wellness benefits of taking time for yourself, but you'll also be supporting the wider mission of Big Orange Heart, with all profits going directly into the charity."
Michelle was 100% behind this answer. "I couldn't have said this any better."
How Do You Create a Coloring Book?
As we talked about the benefits and purpose of the coloring book, I realized that I had no idea how one goes about having it made. I wouldn't have even known where to start!
Since I had two newly minted coloring book "professionals" with me, I took the opportunity to ask.
Sourcing the Art
Dan was really open about it. "The process has been an interesting experience, from working with community members to understanding the requirements of the platform we selected to publish the book.

A couple of months back we opened a call for artists to submit content for inclusion in the book.
We were aware of the need to have vectored images for high-quality print purposes but we also appreciated that not everyone that wanted to be involved would have access to the technology to provide artwork in this format. We took the decision to accept lower quality rasterized images and convert them to higher quality vectors.

This added time to the production process but allowed more people to contribute."
Editing the Submissions
To follow that up, Michelle heaped on some well-deserved praise. "This is where Dan's expertise with design really came into play. While I can draw (and I did purchase an iPad to make this even more fun and easier for me), Dan is the one who worked with each image to get it to production quality. I'm constantly in awe of his abilities.
Adjusting to a Print Format
I asked Dan if they ran into any problems. He explained that it wasn't "a problem as such but I had some interesting learning experiences developing for print, rather than my more familiar digital output."

And for anyone thinking of taking on a project like this, Dan offered this technology tip:

"Adobe Illustrator was used for the full design of the book. One tip – if you ever need Illustrator to export a two-page layout PDF with high-quality vector images, whilst maintaining the page dimensions, use the Print functionality and print to PostScript. Then convert to PDF using Acrobat Distiller. Export to PDF is not an option in this scenario!"
Sourcing the Written Content
Along with a learning curve on the development side, Michelle also mentioned that they had to overcome a lack of written submissions. "While we received some great artwork, relatively few contributed written content. So Dan and I each contributed a bit of writing, as well as sourcing inspirational quotes from across the web (properly attributed, of course)."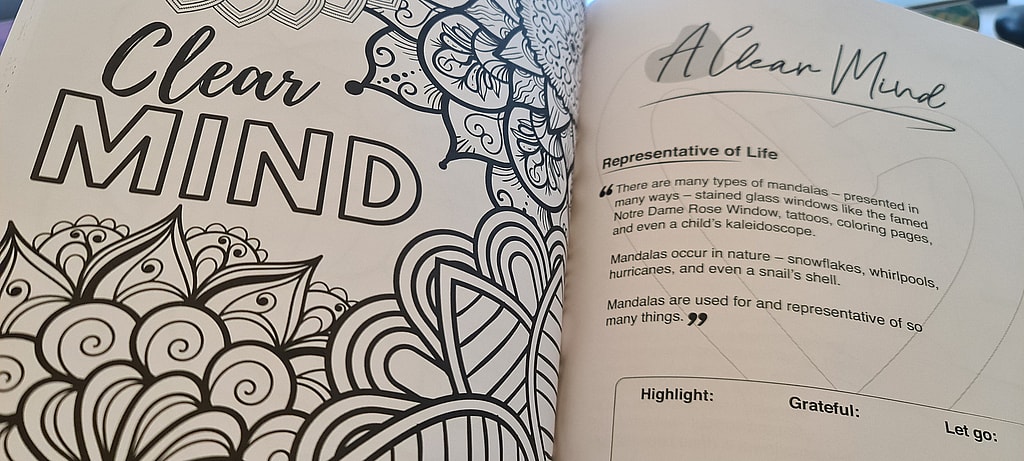 What are the Positive Takeaways from Creating the Coloring Book?
While we've touched on everything from the fun to the function and the value to fundraising — which seriously is a lot of positives — I was curious to see what else they might have gotten out of this experience.
For Michelle, she found another way to spread joy to others.
"I knew I loved to draw and write. I've always loved sharing those things, but I'm truly excited that others will take those drawings and make them their own with the way they might add linework and through the colors they choose.
I hope people will take pictures of the completed pages and tag Big Orange Heart on social media using #ColorMyHeartOrange so that the artists can see their impact and how those coloring the work contribute to the ultimate art and each others' wellbeing."
For Dan, he learned a little more about himself.
"What I love most about these kinds of projects is that I can work with amazing people that have a passion for Big Orange Heart and its mission. But I also came away from this one discovering that I enjoy taking the time to create digital line art.
I spent time being creative in ways I don't usually. When designing for the web, there can be certain constraints that we need to follow, after all, we're designing for a dynamic environment. Whereas designing for a static page allowed for a different kind of freedom."
How Can You Get a Copy of Color My Heart Orange?
The team has launched Color My Heart Orange – Vol. 1, a collaborative and community-focused project, through Amazon and it is the first in a series of mindful focused coloring books.
Launching through Amazon allows the book to be available through international markets. For those who don't have access to Amazon and would like a copy of Color My Heart Orange, please contact the team with your request.
Color My Heart Orange is being offered at an introductory price, starting from $9.99 USD / £7.49 GBP / €9.49 EUR.

At this price approximately $3.85 USD / £2.79 GBP / €3.50 EUR is profit. So for every purchase, this gives you an idea of how much you're giving to the Big Orange Heart Foundation.

In case you're unfamiliar with it, the Big Orange Heart Foundation is a non-profit charity with a mission to support and promote positive wellbeing and mental health within remote working communities.
Final Thoughts
All good things must come to an end, and my time with Dan and Michelle was no different.
As we closed out the interview, Dan wanted to remind everyone that in purchasing this book, you're not only benefiting by taking time for yourself, but you're also supporting Big Orange Heart – with all profits going towards the free delivery of wellbeing and mental health support.
Michelle ended us where we began with heartfelt fun by throwing in some well placed puns.
"I'm truly grateful that this idea was one that could "draw together" so many people in our community.

I love every word and every line of artwork that was contributed. I'm also immensely grateful to Dan Maby for the time he devoted to making this project possible and the enormous talent he has for taking this from concept to market."

Michelle Frechette
If you're looking for a creative outlet to share with others this holiday season, or a nice mental break for yourself — and really it's both! — pick up your copy of Color My Heart Orange today.