January 22, 2021, Big Orange Heart will host a 24-hour virtual conference to celebrate WordPress – WordFest Live 2021 – allowing us all to come together, learn, have fun, network, and support the charity all at the same time.
The event is free (although you may voluntarily contribute a nominal amount at registration).
Sponsorships (including microsponsorships) will provide for the event, and will also help fund the next year of fulfilling Big Orange Heart's mission: "To support and promote positive well-being and mental health within remote working communities."
In just two weeks, over 250 individuals have registered, and many have applied to speak. We anticipate around 2,000 attendees and 40 speakers, on topics including WordPress, remote work, and well-being.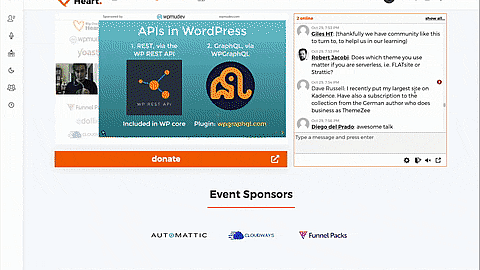 WordFest will use the Big Orage Heart – Live Events Platform, allowing attendees, speakers and sponsors to network, socialise and generally be together. WordFest Live 2021 promises lots of opportunities for learning and fun!
Register to attend, apply to speak, or look into sponsorship here: https://www.wordfest.live/