A little over a year ago Big Orange Heart was first brought to the attention of various companies, within the WordPress space, when we started the journey of developing partnerships to create a sustainable future for the registered charity. We have had the privilege of being supported by some incredible companies like GreenGeeks, WPMU DEV, Weglot and others since then.
Today marks another step in the creation of this sustainable future. When we launched our £75,000 Partnership Package in 2018, we knew it would exclude a large percentage of our community from being able to include their brand. This was a conscious decision to create a solid foundation for Big Orange Heart. However, from the outset, we have wanted to partner with the community to deliver on our mission.
So I would like to introduce you to the brand new Big Orange Heart Community Partnership Package:
https://blog.bigorangeheart.org/partnership/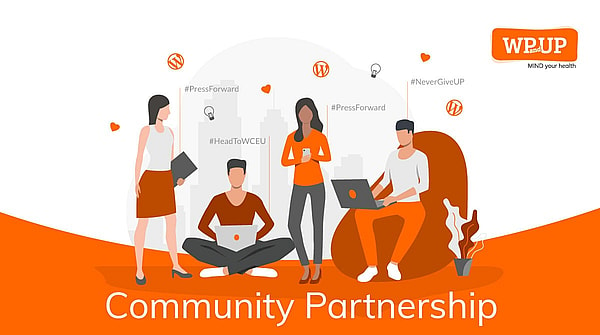 Our Community Partnership Package offers a unique way of purchasing a sponsorship. Instead of us trying to predetermine what's important for you and your business, we've developed a way that puts you in control. You can build your custom package, selecting only the items that you place value within.
So if putting your brand in front of thousands of live event attendees fills you with joy, then grab a few Live Event options. If you love the longevity of hearing your brand played out across the speakers, then the #PressForward Podcast is for you. Take a look at the options and pick what's right for you:
https://blog.bigorangeheart.org/partnership/
Not only have we given you control over the benefits, but we are also mindful of the pressures cashflow can cause. So we have made every item in our Community Partnership Package available on a 12 monthly payment plan. You can spread the cost and benefit right away. We have added 4% to the price if you pay monthly, this will help cover the additional transaction and administration fees.
You will also see we have now included Partnership options for the upcoming #HeadToWCEU project. An exciting and unique opportunity to get your exposed within the WordPress community. Best of all; take all the Big Orange Heart Partnership options, and we will provide The Regional Tour package free of charge, saving you £14,500!
Big Orange Heart has delivered more in the way of support services through the last year than we had estimated we would. In fact, we provided over 7,500 hours of support for individuals within our community through 2019. We also had over 6,500 members register for one of our 119 in-person events. Our peer-to-peer support network is growing and thriving with comments like:
"I can honestly say that Big Orange Heart has saved my life in the past year and a half."

Anonymous
"If it wasn't for Big Orange Heart, I'm not sure I'd still be here."

Anonymous
2019 has demonstrated a real need for this service. We now need to ensure it's longevity and that's where you come in. Becoming a Partner with Big Orange Heart is a truly unparalleled and exciting opportunity. We're a globally unique service provider within the WordPress community; this is your opportunity to expose your brand. Build your package today: